Next Generation Stash Containers
Rugged, Airtight, Responsible

Performance Stash Gear
This is the last stash container you will need to buy. A high end, precision aluminum, smell proof container that transcends the glass jar, engineered to last a lifetime and quality-constructed. To ensure that each Canniloq product meets our standards, every product is carefully assembled by hand and inspected in Colorado before shipment.
Herb Security
Canniloq is the original and ONLY non-plastic, locking stash vial on the market.
Canniloq stash containers were designed with a patent-pending push-lock cap that gives you peace of mind by discouraging curious little hands from exploring the contents. The locked cap will never work its way loose, and accidentally release herb or odors when you're least expecting it. 😳 To release the cap, just a quick downward push and twist are needed.
Our intention is that somewhere along the way, one of our products will help prevent an unfortunate situation.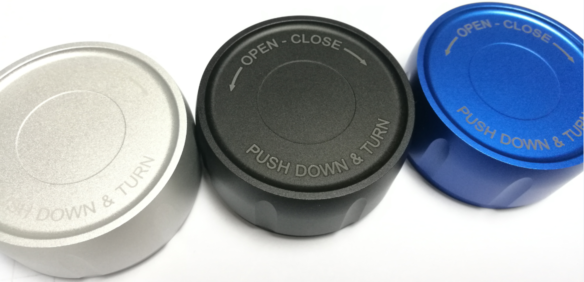 Premium Quality
Canniloq's over-built stash containers are precision-machined from aircraft aluminum, with fluted surfaces for a sure grip and a fine bead blasted texture to repel fingerprints. An anodized coating provides a scratch and chemical resistant finish, and is available in 3 brilliant colors. The discreet logo and cap graphics are marked into the surface by laser etching.
These premium grade canisters hold a large volume of dried herb, have a wide mouth for convenience, and thick walls for durability. They are available in small and large sizes that hold 0.2 and 0.3 ounces of dried herb respectively.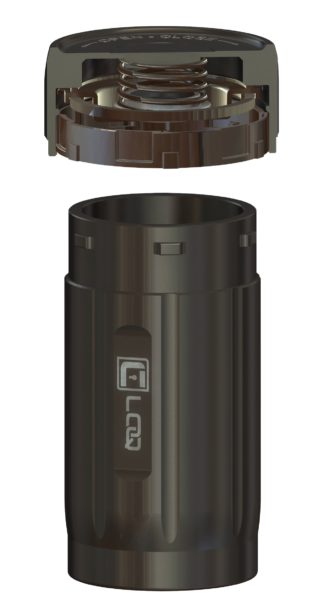 Engineered Stash Containers
Unlike the traditional glass jar, Canniloq blends innovation, function and style in a CNC-machined aluminum canister that is absolutely air-tight, water-tight, light-tight and has a push-lock cap.
The unique cap mechanism contains low-friction bearings to prevent the rough aluminum-on-aluminum feel and binding found with other threaded aluminum designs. The bayonet-style locking cap is similar in design to a precision camera lens mount, and results in a silky smooth push-turn closure.
You will find these distinctive stash containers to be a worthwhile investment. They are virtually indestructible, and perfect for tossing in your gear bag, backpack or center console.
Canniloq versus other stash containers
Compare the differences between Canniloq locking stash containers and other types of stash containers. Why settle for less?
Money Back Guarantee
We want to be sure you're as happy with your Canniloq products as we are. If you're not 100% satisfied with your purchase, you can return it for a full refund within 30 days, no questions asked!
The ONLY non-plastic, air tight, water tight, light tight, locking stash vial on the market
Superior durability, safer and more secure than glass stash jars, metal tins or plastic bags
Simple push-and-turn, spring-loaded, sealed locking cap prevents unintentional access to contents
Preserves and protects valuable herbs and spices
Smell proof, pet proof, shatter proof, rip proof, crush proof
Discrete exterior appearance, no tell tale logos to reveal contents
Precision engineered from 6061-T6 aircraft grade aluminum, 300 series stainless steel, high-performance engineering resins
Mil spec anodized body and cap for corrosion and scratch resistance
Saltwater corrosion resistant
True spring-loaded rotary locking lug design
Available in 120 cc and 80 cc sizes
Recess for 1″ diameter adhesive writable label